Building wealth and becoming prosperous is the American Dream that we all aspire to. Real estate is one of the best strategies for building wealth. 90% of millionaires have invested in real estate to create wealth. However, the tricks of the trade aren't reserved for only the ultra-wealthy. The knowledge and guide to starting up is available for every American. In fact, there are many courses and guides on real estate investing. Tax Deed Genius by The Jackie Jackson is one of the most comprehensive courses on the market. That is why it is the best real estate investing course for new and seasoned investors. Through this 8-week course, you will be able to learn the full gamut of real estate investing with tax deeds and tax liens.
Why You Should Invest in Real Estate
Real estate investing is the fast track to building wealth and obtaining financial freedom. Are you looking to build your portfolio? Do you have enough for retirement? Do you want to create financial stability for your family and future generations? Real estate investing can make all of these things possible. Here are a few more reasons why you should start real estate investing.
Cash flow
Cash flow is what makes real estate investing one of the best strategies for building wealth. Cash flow is the net income that a property brings in after mortgage payments and operating expenses. Real estate offers good cash flow. Additionally, cash flow on houses will strengthen over time as you pay the mortgages and build equity.
When it comes to real estate, you can build up your cash flow to the point where it covers monthly expenses and you no longer have to work for a check. A larger cash flow is the goal, and the extra income can help you create larger savings, and invest in bigger and more profitable real estate opportunities.
Appreciation
Unlike other forms of investments, real estate appreciates in value over time. The property appreciates in value over time, and also the land that it is on as well. In some cases, the land could be worth more than the property that stands on it. The National Association of Realtors have found that appreciation levels have been at about 6% each year since 1968. This is even including recessions.
Diversify Your Portfolio
Investing in real estate also offers the potential for you to diversify your portfolio. Real estate has a low and even negative correlation with other types of portfolio assets. When you add real estate investments to your portfolio, you can potentially lower the volatility of your portfolio.
Real Estate Investing Secret: Tax Deeds and Tax Liens
The Jackie Jackson has had years of experience with real estate investing. She is especially proficient with investing in tax deeds and tax liens. In Jackie's Tax Deed Genius Course, she goes over how to find properties with tax deeds as well as tax deeds. Tax deeds and tax liens are one of the best kept secrets of real estate investing.
What is the difference between Tax Deeds and Tax Liens?
If you are familiar with real estate or real estate investing, you've probably heard of tax deeds and tax liens. However, both of these are more advanced strategies of real estate investing.  These strategies are attractive to investors because they offer an opportunity to receive a competitive ROI.
What Is a Tax Lien?
When a property owner doesn't pay the taxes on a property, the local city places a lien against the property. Tax liens are used as a last resort for the city to force a homeowner to pay back taxes that have incurred. In the event that delinquent property taxes remain unpaid, the tax lien can be sold at a public auction.
What Is a Tax Deed?
Tax deeds function in similar ways to a tax lien. However, the main difference is that at the public auction, ownership and interest by deed is transferred to the winning bidder. At tax deed sales, you are bidding to gain title to the property itself. With tax deeds, there may be a redemption period depending on the state. Not every state has redemption periods.
Tax Lien vs. Tax Deed
In the United States, there are 36 states and 2,500 jurisdictions where tax lien sales occur. However, there are only 31 states that allow tax deed sales. Many states are also a hybrid of these two. (Source: National Tax Lien Association). For investors, there are endless opportunities to invest in both tax deeds and tax liens.
Learn The Secrets of Wealth Through Tax Deeds and Tax Liens
What makes Tax Deed Genius the best real estate investing course? The Jackie Jackson has created this amazing 8-week program for new and experienced real estate investors. This course will teach you how to create a profitable real estate business. You will do this by leveraging the hidden diamonds available across the United States through tax deeds and tax deed auctions.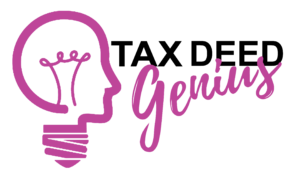 Tax Deed Genius is The Best Real Estate Investing Course
The Jackie Jackson has introduced the ax Deed Genius Real Estate Investor Training Program to both new and seasoned investors alike. This course will show you how to research, purchase properties and make the most out of your investments. In this course, you will also:
Discover how to acquire real estate with tax deeds and tax liens
Learn the secrets of how to buy properties for pennies on the dollar
Instantly turbo-charge your tax deed surplus and overage profits
If you have any trouble or have any questions – reach out to our team – we are here to help. Send our support team a message at info@thejackiejackson.com
About The Jackie Jackson
Meet The Jackie Jackson, the Tax Deed Genius! Jackie Jackson is CEO and founder of Tax Deed Genius ™ Real Estate Expert, Coach & Mentor, and Tax Lien & Tax Deeds Investor. ​Jackie empowers her clients with the tools, resources, and the step by step guidance necessary to design their dream life by investing in real estate. With the Tax Deed Genius Online Course, you can learn at your own pace. Jackie also hosts virtual Workshops and Bootcamps. Jackie shares lessons learned from her 14 years of experience in investing in real estate on @TheJackieJackson on YouTube!